What is ISO 9001 Certification?
The ISO 9001 is known for being one of the best quality management standards for companies and organizations around the world. This standard focuses on the 7 QMPs, Quality Management Principles, which include:
1. Customer Focus
2. Leadership
3. Engagement of People
4. Process approach
5. Improvement
6. Evidence-based decision making
7. Relationship management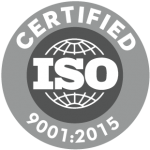 Organizations use the standard to demonstrate the ability to consistently provide products and services that meet customer and regulatory requirements. Each principle is essential for sustaining a fundamental and successful business. When effectively and efficiently implemented each principle brings a unique set of functions that helps shape and optimize a quality management system.
ISO came to fruition in 1946 when delegates from 25 countries met in London at the Institute of Civil Engineers. ISO stands for 'International Organization for Standardization' however, it's origin comes from the Greek word 'isos', meaning equal. No matter the country, whatever the language, we are always ISO. Fast forward to 2021, there is over 1 million companies and organizations around the world who have successfully implemented strategic processes and have received their ISO 9001 certification which is an incredible accomplishment!
On March 22nd, 2021, an auditor from SAI Global audited our systems for recertification to the ISO 9001:2015 standard. Without any findings, IFS is proud to announce that we again are certified for an additional 3 years. During the audit, 25% of IFS employees were interviewed. After the interviews, the auditor was extremely impressed with how well our employees knew and followed our systems for the purpose of effectively performing their day-to-day job duties. The auditor stated, "There are no major or minor findings." This certification represents that IFS has a robust system based off the 7 QMPs.
Many companies require an ISO certification to do business but that is not the only reason to be ISO certified. As a world class custom coater IFS trusts its robust and efficient processes which were created from the 7 Quality Management Principles and the ISO 9001 system. Here at IFS, we are proud of our ISO certification and will continue to operate with integrity and trust.